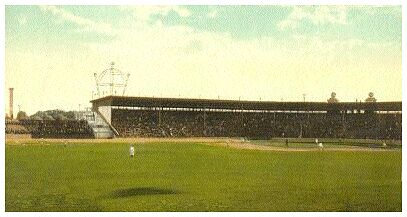 Hanlan's Point Stadium
1914 started out as a pretty darn good year for George Herman Ruth. In 1913, he had just been an 18 year-old kid playing baseball at an orphanage in Baltimore. But by the start of the 1914 season, he'd caught the eye of the Orioles, had been signed to a contract for $250 and took his place as a rookie pitcher in a professional rotation. It didn't take long for him to become a rising star, quickly winning 14 games, leading the Orioles into first place and earning himself two big raises in the process.
But the Orioles were in financial trouble. Halfway through the season they were forced to trade him the Red Sox and, unfortunately for Ruth, the Red Sox already had more than enough great pitching. And so, only a few months into his very first season, the Babe was sent down to the minors.
Despite the setback, the young pitcher didn't miss a beat with his new team. He won nine game in his first two months with the Providence Grays and led them into first place ahead of outfits like the Jersey City Skeeters, the Montreal Royals and the Toronto Maple Leafs.
The Maple Leafs had been playing baseball in Toronto since 1885, back when they were known as the Toronto Baseball Club and played their games on an old lacrosse field at Jarvis and Wellesley. By 1914, though, they had already gone through a whole series of real stadiums and—once most of them had burned down—built the biggest ballpark in the minor leagues: a gorgeous 17,000-seat facility on the island called Hanlan's Point Stadium.
It was on September 5, as the season was drawing to a close, that the Providence Grays came to town with their new star pitcher. He threw a one-hit shutout that day, winning 9-0, but that's not what people remember. What they remember is that he hit a home run right into the lake, the first he had ever hit in his professional career. The ball must still be rotting away at the bottom of the lake somewhere.
A year later, Ruth would be back in the majors with the Red Sox, helping them to win the World Series. Four years after that, as he started to focus on hitting rather than pitching, he would set the single season home run record for the very first time.
-----
You can see more photos of Hanlan's Point Stadium
here
and
here
, which I got from
this website
with a bunch of historical images of the island. You can also take a look at Babe Ruth's 1914 Baltimore Orioles rookie card over
here
.